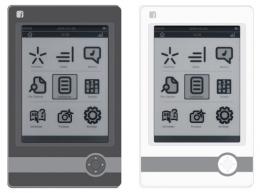 italica unveiled their new e-book reader at the Frankfurt Book Fair this month. From the photos, we'd say it's using hardware from Netronix similar to the Cybook, Starebook, Ganaxa, Cool-er etc. but with a personalised firmware.
There's not much information available on
their site
yet however the
technical specs
reveal that it will support both .epub and .prc formats among others (no mention of drm) and mentions support of various languages including English, German, Dutch, French, Spanish, Russian, Italian and Swedish. The photo of the home screen shows an icon labelled dictionary ; it will be very interesting to find out whether the dictionary can be used while reading epub files as well as mobipocket, and whether the dictionary support can use any commercial dictionary of the user's choice. Other icons include "Favorites", "Library" and "File Explorer" which (let's speculate...) seem to suggest a folder-based browsing system, possibly with tags as well.
The price is not disclosed on the site however the home page mentions a promotion running through December 1st, 2009 for 20€ off all orders. We're not sure this is anything revolutionary but it could shape up to be a very nice device with a very respectable feature-set. What do you think? Interested?
Please join the ongoing discussion in
this thread
.