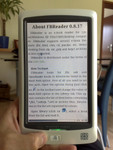 If you've been following
UMPC Portal
, then you may know that a few weeks back they came across a $189
new Linux tablet
called the Smart Q7. Here are the specs:
Quote:
* CPU: 667MHz Sansumg ARM S3C6410
* 7" Touchscreen, 800 X480 resolution
* Memory: 128MB DDR RAM
* Storage: 1GB Flash Memory
* OS: Ubuntu Linux
* Languages: Chinese/English/German/French/Portuguese
* microSD slot (up to 32GB)
* WiFi 802.11b/g
* Connectivity: 2.0 USB HOST supported to connect the high-speed EDGE, HSDPA network adapter or mobile phone
* Weight: 480g
* Battery: 4500mAH
* Warranty: One year
I held off on reporting on the Q7 because I wanted to make sure that
the seller
was reputable (they appear to be), and that the device would make a decent ebook reader. Well, our friends at UMPC Portal have had one for about a week now, and they're deeply impressed. They've reported a 10+ hour battery life, and that the Q7 comes with FBReader. They've posted
severals times
, and have added the following clip and gallery:
unboxing video
Q7 as EReader video
Q7 photo gallery
(the pics will make you drool)
We have an ongoing discussion over
here
.
P.S. MR will be posting a review of the Q7. A MR member by the name of
ColdSun
has ordered one. We'll post his review once it's ready.