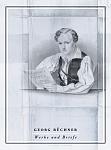 Pünktlich zum 200. Geburtstag erscheinen hier Sämtliche Werke und Briefe von Georg Büchner (1813–1837,
Wikipedia
):
Der hessische Landbote
[1834]
Dantons Tod
[1835]
Lenz
[1835]
Leonce und Lena
[1836]
Woyzeck
[1836/7]
Kleine Schriften
Briefe
[1831–37]
Die Formatierung wurde überprüft und korrigiert, Schriften sind eingebettet und die Fußnoten verlinkt. Es gibt die üblichen Inline-Inhaltsverzeichnisse und Links am Ende von Texten und Kapiteln.
Die meisten Texte stammen von zeno.org, wo sie der Historisch-Kritischen Ausgabe von Werner R. Lehmann folgen, die kleinen Schriften und die Briefe von Gutenberg.de. Da von
Woyzeck
nur die Szenenentwürfe und die unvollständige Reinschrift online verfügbar sind, habe ich die Lese- und Bühnenfassung Lehmanns selbst gescannt und korrigiert.
Viel Spaß beim Lesen!
pynch
.
This work is assumed to be in the Life+70 public domain OR the copyright holder has given specific permission for distribution. Copyright laws differ throughout the world, and it may still be under copyright in some countries. Before downloading, please check your country's copyright laws.
If the book is under copyright in your country, do not download or redistribute this work.
To report a copyright violation you can
contact us here
.