Quote:
Originally Posted by
Qstz

For some reason, HP Sure Click has decided I cannot remove its protection, which is preventing me from opening Calibre. There is no "run as administrator" option in the right-click menu. Anyone have advice on how to fix this?
Try the Start menu for Run as administrator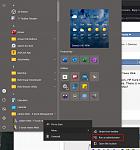 But my reading of
this
suggests it may not.
Does HP's Sure Click have an exclusion list, if it does exclude calibre in its entirety, if it doesn't consider disabling or removing Sure Click.
Try pulling the plug on your internet connection - that will prevent calibre doing its startup check for new versions etc.
BR