Quote:
Originally Posted by
Jellby
But there is yet another button that shows blank in my system (and cannot be clicked), is this intended?
When I upload, my screen (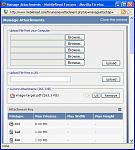 ) shows the button to the farthest right is "Remove", which is preceded by "US" (which can be selected and is for the US servers) and then to the left of that is a ghosted "CA" (which I presume is the default Canadian servers).
Canada is also known internationally by the initials "CA".
Is that what you note as "blank"?