Nice to meet you all !!
The program has started as a personal project to create ebook documents that can be read in NUUT 2 machines. It is, however, growing into a full pledged epub authoring tool with continued support and requests from other users on the net.

Revision history:
- 2009.09.17(1.1.3)
Embodied English menu lists (run_en.bat)
- 2009.09.16(1.1.2)
Multilingual support for various encoding methods added.
Added options for font resizing, left and right margin, text-indent
Added an option for maintaining blank lines
- 2009.09.15(1.1.1)
Added support for machine-internal fonts for Sony readers(PRS700, PRS505, PRS500)
(res:///Data/'name for font directory'/'font name')
Fix screen size
- 2009.09.14(1.1)
Added option for Cover Page (can include image file as well)
All the option items can be saved
Auto-splitted chapter names can be displayed in the epub document
text-indent has been adjusted to 0.5em
- 2009.09.14(1.0)
Convert text files into epub documents
No support for text alignment yet
Related Links :
My BLOG :
screen shot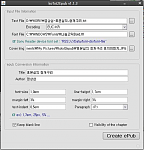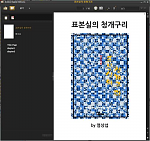 Have a nice day!