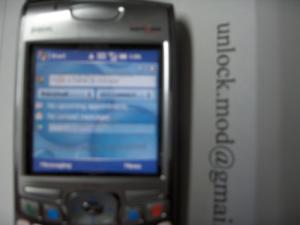 Not sure if it's scam or real, but Tad sent me
this link
where some private individual claims to have the Verizon-branded Treo 700w in stock:
I HAVE VERIZON TREO 700w IN STOCK!! THESE PALM TREOS ARE BRAND NEW WITH MANUAL AND DATA CABLE. COMES IN A WHITE GENERIC BOX BECAUSE THEY HAVE YET TO CREATE A RETAIL BOX. PHONE IS BRAND NEW, NEVER BEEN USED.
Considering that Verizon provided us with a
sneak peak
already, it cannot take much longer for the Treo 700w to become officially available; it's up to you whom you send your money!
UPDATE:
Get notified
by Verizon once the Treo hits their stores.