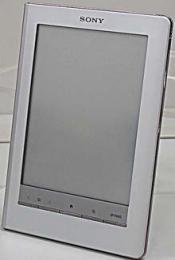 According to the
New York Times
, Sony is going to adopt the ePub-format in a new, exclusive way!
Quote:
On Thursday, Sony Electronics, which sells e-book devices under the Reader brand, plans to announce that by the end of the year it will sell digital books only in the ePub format, an open standard created by a group including publishers like Random House and HarperCollins.

Sony will also scrap its proprietary anticopying software in favor of technology from the software maker Adobe that restricts how often e-books can be shared or copied.
It seems as if Sony will strengthen the support for ePub (in its ADEPT attire), selling ePub eBooks over their proprietary bookstore. The bookstore will open up to other hardware platforms using the ADEPT engine (txtr, Jinke's Hanlin clones, Bookeen Opus (and Gen3), Cool-er, Elonex and so on).
It's unfortunately not very clear what is going to happen to Sony's own BeBB-format and it's not even known if it will be supported at all by the new models 300-600. This may evolve in a bad situation for long time owners of Sony readers.
Sony seems to try to reposition itself in the marketing war that rages on between Sony and Amazon with Apple as a potentially new rival in the ring with the rumored Apple tablet.
By opening up their hitherto closed system, they should be in a nice position to boost their sales, considering that Sony does offer a very large choice of books already.
BTW:
Quote:
'Later in the year, the company will begin selling a third Reader that will, like the Kindle, allow users to buy e-books wirelessly.'
All right, folks! That might be a nice reason for Sony's press conference next tuesday. Let's wait and see!
Please discuss this in our ongoing thread
here
.
Edit: Sony's official press release is online now
here
:
Quote:
In an effort to take the confusion out of digital book formats, Sony today announced its plan to convert its eBook store to the industry-standard EPUB format by the end of the year. Adopting an industry-standard format and Adobe® Content Server 4 (ACS4), a popular, cross platform server software solution that copy protects downloadable eBooks, allows Sony to make its eBook store compatible with multiple devices and its Reader devices open to multiple sources for content.
New point: Sony seems to say that they will make available the epub format to the 500:
Quote:
Sony will also provide an update path for owners of the first edition Reader, model PRS-500, so early adopters of the Reader will be able to enjoy this benefit as well.
.