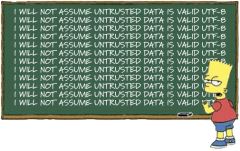 Hi folks! In order to accommodate for languages with characters that are not covered by the Latin1 set for "Western" languages, we're in the process of converting our database and switching the database client to Unicode.
Before we do the conversion on our live system, however, we need to make absolutely sure that we don't screw it up. For this reason we have set up a beta test server where features can be tried out without doing any harm.
So - if you like to help us (speaking a language with interesting character sets, like Russian, Chinese, or French is a big plus!!), please send me
a quick message
for the login details.
To all volunteers: thanks for helping us to improve this community!