Eine frühe, kurze Arbeit Friedells (der hier seinen Namen Fridell schreibt) von 1904 über, nun ja, Novalis als Philosoph.
Aus dem Google-OCR-Korrektur-Lesesaal. Fehler bitte melden!
Diesmal wieder eine Ausgabe mit und eine ohne (nopg) Seitenzahlen.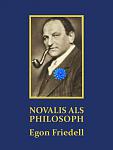 This work is assumed to be in the Life+70 public domain OR the copyright holder has given specific permission for distribution. Copyright laws differ throughout the world, and it may still be under copyright in some countries. Before downloading, please check your country's copyright laws.
If the book is under copyright in your country, do not download or redistribute this work.
To report a copyright violation you can
contact us here
.