Skepsis und Mystik
, 1903 erschienen, bietet genau, was der Untertitel sagt: "Versuche im Anschlu▀ an
Mauthners Sprachkritik.
" Keine leichte, sehr wohl aber eine sehr anregende LektŘre, von der ich beim Korrekturlesen hoffentlich so ca. ein Drittel verstanden habe.
Erstmals im eBook, aus der Google-OCR-Korrekturstube. Fehler bitte melden!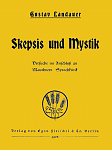 This work is assumed to be in the Life+70 public domain OR the copyright holder has given specific permission for distribution. Copyright laws differ throughout the world, and it may still be under copyright in some countries. Before downloading, please check your country's copyright laws.
If the book is under copyright in your country, do not download or redistribute this work.
To report a copyright violation you can
contact us here
.