Gleich noch ein bisschen Mauthner, diesmal ein historischer Roman.
Hypatia
erschien zuerst 1892 in Buchform, hier allerdings wird die Ausgabe vorgelegt, die im Rahmen der sechsbändigen
Ausgewählten Schriften
1919 erschien. Das eBook beruht auf der Version von Gutenberg-DE, wurde aber hinsichtlich Formatierung und Seitenzahlen gegen einen Scan im Internet Archive gecheckt (allerdings nicht korrekturgelesen.)
Erneut gibt es eine Ausgabe mit aktivierten und eine mit deaktivierten ("nopg") Seitenzahlen.
Update 17.2.2018
: Version 2; gut 40 Fehler der Vorlage korrigiert. Dabei das Buch gelesen. Wer einen exzellent geschriebenen, komplett unsentimentalen historischen Roman lesen will, ist hier richtig. Außerdem Pflichtlektüre für Freunde des Marabus.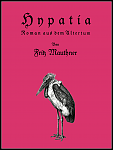 This work is assumed to be in the Life+70 public domain OR the copyright holder has given specific permission for distribution. Copyright laws differ throughout the world, and it may still be under copyright in some countries. Before downloading, please check your country's copyright laws.
If the book is under copyright in your country, do not download or redistribute this work.
To report a copyright violation you can
contact us here
.