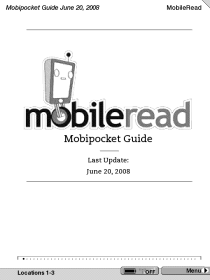 Doh! Nate beat me to it and
already introduced
our latest feature: the
Mobipocket Download Guide
- to download e-books directly to your connected e-book device. Inspired by the ingenious
Feedbooks Kindle Download Guide
, we've decided to launch a similar feature allowing everyone with an Amazon Kindle, iRex iLiad or other Mobipocket-compatible e-book reader with access to the Internet to immediately download books prepared and uploaded by our members.
Some notes:
the Guide is updated every 24 hours to include the latest Mobipocket-compatible books uploaded to MobileRead;
books not in Mobipocket format are not included in the Guide;
Kindle users can download the guide through the integrated experimental web browser. You can also use USB or send the Guide to your Kindle e-mail address. Important: it takes some time for the Kindle to fully index the document for searching;
Windows users can use the Mobipocket Desktop software to browse through the guide and download e-books directly from it.
My special thanks to lovebeta, pshrynk, daffy4u, TallMomof2, pshrynk, RickyMaveety, MoSo, pilotbob, and the entire MobileRead crew for beta testing our new feature!
Suggestions, feedback, recommendations, we love to hear it all, so please join the
on-going discussion
.