I use both Feedly and Send to Kindle extensions regularly, hence this app suits my needs. I want to share it with you:
FabReadly:
Webpage:
http://fabreadly.com/
As the title implies FabReadly is a third party app that works with Feedly. It sends unread posts to Kindle or Sony Reader PRS-T2 automatically everyday. FabReadly also transforms partial RSS feeds to full-text feeds with an ad-free, more readable format before sending to your e-reader.
Also there is an on-reader function: If you find an interesting post on Kindle, you can save it to Evernote or Pocket by 1-click.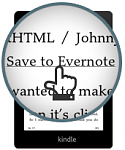 ----------------------------------------------
FabRSS:
There is also an alternative version of it which can be use to send articles to Kindle without using a Feedly account:
http://fabrss.com/
It is an RSS reader with basic functionalities (including "save to Pocket", "save to Evernote" and share buttons ) and some others that I wish to have them also on Feedly: "read full article" and "Send to Kindle" options. You may find its appearance a bit simple though.
BTW: I have no connection with these apps and their developer(s).