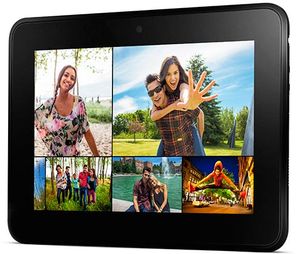 Only few days after the
leaked benchmark
of the upcoming 8.9-inch Kindle Fire HD, fresh into our tattle box we received the equivalent benchmark information of the 7-inch model. See attached screenshots for all the details.
Also, if you care to know, the three Kindle Fire devices go by the names Soho, Thor and Apollo.
KFSOWI, Kindle Fire Soho, Amazon Kindle Fire Entry Level, 7-inch, 1280 x 800 display, WiFi
KFTHWI, Kindle Fire Thor, Amazon Kindle Fire HD 3, 7-inch, 1920 x 1200, WiFi
KFAPWA, Kindle Fire Apollo, Amazon Kindle Fire HD 3, 8.9-inch , 2560 x 1600 display, WAN
Now let's hope that Amazon hurries to get these toys on the street!