Dieser Band versammelt sämtliche Theaterstücke von William Shakespeare (
Wikipedia
) in den Übersetzungen von August Wilhelm von Schlegel, Wolf von Baudissin, Ludwig und Dorothea Tieck, in der Reihenfolge der ersten Folio-Gesamtausgabe seiner Stücke mit zwei später veröffentlichten Dramen als Anhang: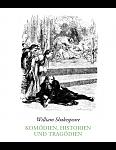 Komödien
Der Sturm
Die Beiden Veroneser
Die lustigen Weiber von Windsor
Mass für Mass
Die Komödie der Irrungen
Viel Lärm um Nichts
Liebes Leid und Lust
Ein Sommernachtstraum
Der Kaufmann von Venedig
Wie es euch gefällt
Der Widerspenstigen Zähmung
Ende gut, alles gut
Was ihr wollt
Ein Wintermärchen
Historien
König Johann
König Richard der Zweite
König Heinrich der Vierte, Erster Teil
König Heinrich der Vierte, Zweiter Teil
König Heinrich der Fünfte
König Heinrich der Sechste, Erster Teil
König Heinrich der Sechste, Zweiter Teil
König Heinrich der Sechste, Dritter Teil
König Richard der Dritte
König Heinrich der Achte
Tragödien
Coriolanus
Titus Andronicus
Romeo und Julia
Troilus und Cressida
Timon von Athen
Julius Cäsar
Macbeth
Hamlet, Prinz von Dänemark
König Lear
Othello
Antonius und Cleopatra
Cymbeline
Die beiden edlen Vettern
Perikles, Fürst von Tyrus
Die Stücke sind komplett neu formatiert. Ich habe sie mit einer Buchausgabe verglichen, Sprechende in fetten Kapitälchen abgesetzt, Verse und Prosa als Flatter- und Blocksatz sauber voneinander unterscheidbar gemacht, und Lieder sind jetzt besonders eingerückt. Außerdem sind Schriften eingebettet.
Ein Inhaltsverzeichnis zu Beginn führt zu den Stücken, die alle ihr eigenes Inhaltsverzeichnis haben, in denen sämtliche Aufzüge und Szenen gelistet sind. Am Ende jeder Szene führen Links dorthin zurück, sodass eine schnelle Navigation einfach möglich ist.
Viel Spaß damit,
pynch
.
PS: Der angekündigte Goethe ist bald soweit, Nietzsche kann noch ein wenig dauern.
This work is assumed to be in the Life+70 public domain OR the copyright holder has given specific permission for distribution. Copyright laws differ throughout the world, and it may still be under copyright in some countries. Before downloading, please check your country's copyright laws.
If the book is under copyright in your country, do not download or redistribute this work.
To report a copyright violation you can
contact us here
.