I like pulling my news from multiple sites so I have put together a recipe that pulls from Fox, CNN, NYT, Wash Post/Times, and WSJ...along with some health and technology news from a few other sites, a little local news, and a bit of ESPN and Dilbert to round things off.
Images for the masthead and cover are also included.
Enjoy...and feel free to customize further.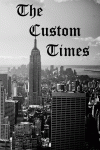 customtimes_recipe.txt