While I like the standard Amazon cover I bought for my K3, I decided to make another one for travel. This design is lighter (at 2.4 oz, less than half the weight), reasonably strong and durable, protects against dust and moisture, and (most importantly) can be decorated however I like!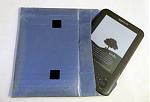 The sleeve consists of several layers. The innermost layer is a felt liner, then a poly plastic folder held together with duct tape, then a Tyvek envelope painted with several coats of artist's acrylics, and finally an outer layer of clear vinyl "contact"/shelving paper. I spent less than $5 on materials, but I had some of the stuff on hand already.
One of the design goals was to make something moderately protective against water. Making a sleeve that could be fully immersed seemed too ambitious, but one that could survive a coffee spill or light rain seemed potentially feasible. The flap is folded over itself and held in place with velcro, forming a crease that seals the opening. I tested the case in the shower, using a Kindle-shaped piece of foamboard covered with a paper towel. After five minutes in the spray, being turned in various orientations, the paper towel was still bone dry!
Honestly, I was kinda skeptical this would work, but it did. Still, I'm sure I'll put the case in a ziploc bag for extra insurance when water is really a concern.