All buttons are hideous space consuming clutter
I just tried dragging items up and down in Word's Navigation->Headings panel, which is the equivalent of Sigil's Book Browser, works very nice, even for me.
Here I'm dragging Chapter Two, down to between Chapters Four and Five.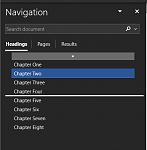 If Qt could be like that, then even I wouldn't want any alternative.
BR