Enter Smart Playlists. In addition to creating custom playlists for your favorite music, Smart Playlists are often overlooked as a powerful and flexible tool to help you manage and organize your podcasts.
Here's a quick step-by-step guide that will show you the basics of creating Smart Playlists to make your daily podcast listening routine more organized. If you need to go over the basics of podcasts in iTunes first, you can check out Apple's very own articles on
Browsing and downloading podcasts
and
Listening to and managing podcasts
. In the example outlined below, I'll walk you through creating a Smart Playlist by podcast Artist with the option of limiting the Smart Playlist to only those podcasts that have been downloaded on the current date. This comes in handy if you subscribe to podcast feeds that have a number of daily podcasts, like the
Reuters Labs audio podcasts
and
TeleRead's posts made into podcasts
using the
TalkR
blog-to-podcast service.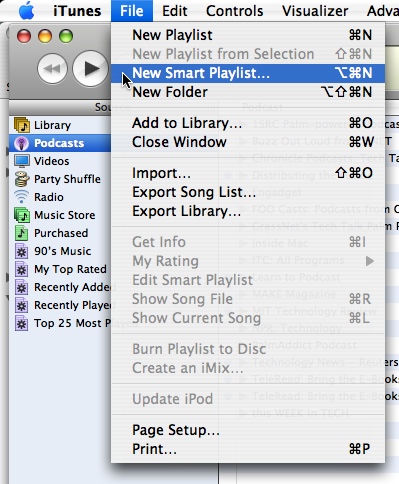 Create a new Smart Playlist in
File > New Smart Playlist
. Keep the the default check boxes as-is. In the Smart Playlist popup dialog box, select
Artist
in the first pull-down list, then
contains
in the second pull-down list. Enter the podcast Artist for which you wish to create a separate playlist in the text box.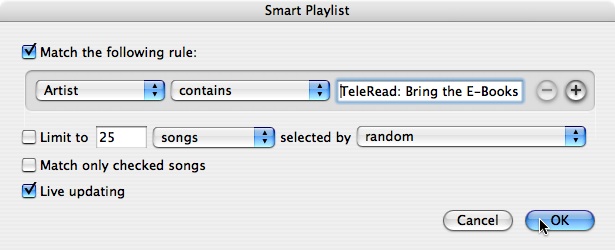 At this point, you can click OK, but if you want to limit this playlist to contain only those podcasts downloaded on the current date, click the + sign on the right to create a new rule.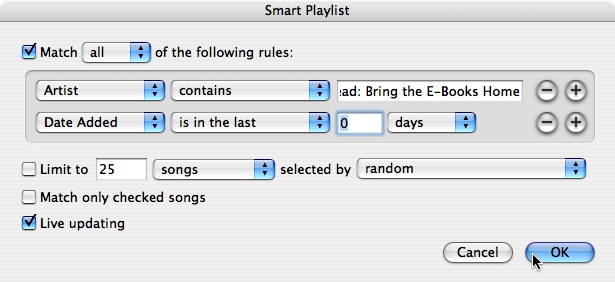 In the first pull-down list, select
Date Added
, then
is in the last
in the next pull-down list. Enter 0 in the text box, then select
days
in the last pull-down box. Click OK and you're done! Additionally, you can keep everything out of your Smart Playlist except podcasts by selecting
Podcast
and
is true
in a new rule.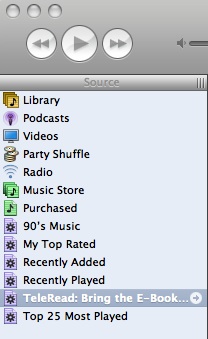 You should now see a new Smart Playlist in the left Source pane in iTunes, named with the Artist you selected when you created the Smart Playlist. If you want to rename your Smart Playlist to something more descriptive, click on the name of the Smart Playlist to edit it.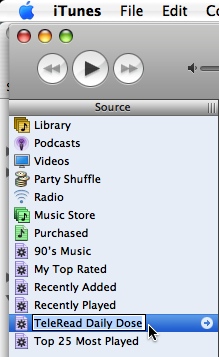 Congratulations! You now have a quick and easy way to organize your podcasts and avoid scrolling through a huge single list. Create a number of custom Smart Playlists, and experiment with the different rules to further filter and customize your podcast listening based on your habits and how you want to keep them organized.
To find out more about Smart Playlists, check out
this article
at Apple's website.