Hi,
Out of lack of a good community, and lazyness of not registering to any other scooter community, I made a small research whether or not an electrical scooter is beneficial over a gasoline one or not; and post it here.
For my numbers I used a second hand car, the specs of 2 Honda bikes (which are very average to good, for bikes of that caliber), and 3 electric bikes from Xtreme.
I have not included the car in the graph, as the graph would extend too far in the $$$ axis.
You'll notice other brands making similar electric bikes, with very close specs; same story as Honda.
In the attachment you'll find a graph of on average how much a bike would cost you over a period of 8 years, including minor maintenance, battery change, and gasoline, for a bike used ~100 miles per week@ a constant rate of $4/gal for gasoline; like a home-work-home commuter. That is, for people who take care of their bikes, and they don't get stolen or broken.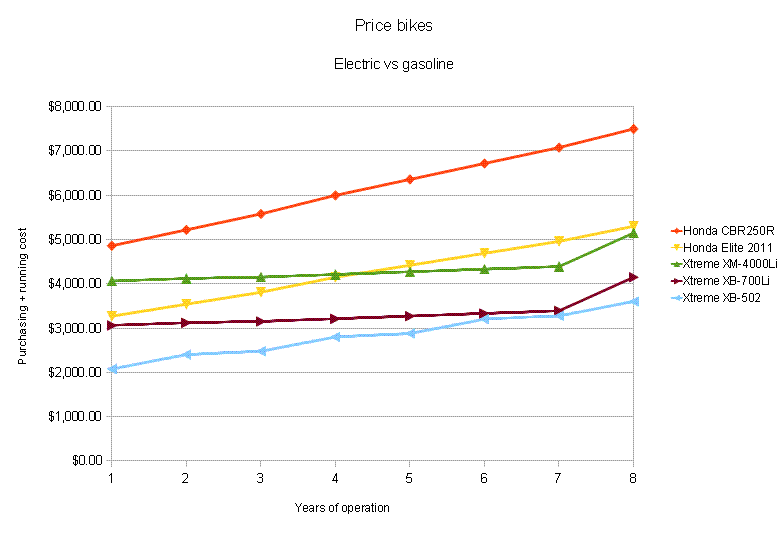 Turns out, if you can do without the comfort of a roof above your head, that electric bikes do save you some $$$ after all! (a $6000 car turns out to cost you over $18.000 in 8 years)
Most sane solution would be to have the XM4000Li, as within 4 years it pays itself completely back compared to a very similar Honda Elite. It goes upto 50mph, and has about the same torq as a 250cc bike.
If you're fine with 20MPH max speed, I'd recommend the XB-700Li over the 502. The 502 uses lead acid batteries that need replacement every 2 years, and is less comfortable (has less luggage space).
If you're into living economically, just ask your local DMV about licenses, and insurance policies concerning these bikes. in many states the 502 and 700 won't need an insurance or driverslicense, but it comes at a cost of driving upto 20mph.
Just to let you guys know, unfortunately there aren't that many brands out there shipping their goods into the world. So far I've found Xtreme to be one of the better bikes, with a trackrecord, definitely worth buying if you don't live near snow or rainy areas, even nice as a small cruise bike, or to do small groceries with!
I find this definitely better looking than a segway, but in the short term, a 250cc bike might still be more beneficial.
see attachments.