Sat August 15 2020
Mon August 10 2020
Sat August 01 2020
Tue July 28 2020

PocketBook Color PB633 Released
03:22 AM by Cyfranek in E-Book General | News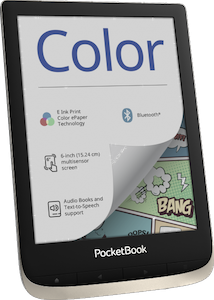 PocketBook Color E-Reader Announced
Specifications
PocketBook Color is the first ereader with E-Ink Kaleido screen from this manufacturer.
And it's the very first such device in Europe as well.
It's now appearing in various online stores in Europe at around €200.
One UK seller is advertising at £191.90, and expects stock by 3rd August.
6 inches screen with 4096 colours;
dual core (2x1 GHz) processor;
1 GB RAM
16 GB of storage;
microSD slot (up to 32GB);
physical page turn buttons.
WiFi and Bluetooth
160g
[ 201 replies ]
Sat July 18 2020
Wed July 15 2020

Kobo Nia Official Announcement
03:33 AM by pdurrant in E-Book General | News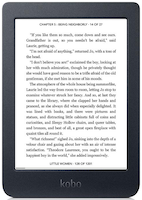 Kobo have announced their new entry-level ereader, the Kobo Nia.
Canadian Store / UK Store / US Store / French Store
It will be shipping from 21st July 2020, and Kobo are taking pre-orders now at
CA$129.99 / £89.99 / US$99.99 / €99.99
Screen: 6" 212 PPI Carta E Ink display, 1024 × 758 resolution
Weight: 172 g
Size: 112.4 x 159.3 x 9.2 mm
Storage: 8 GB
Front-light: ComfortLight, a one-colour light with adjustable brightness
Customizability: TypeGenius: 12 different fonts and over 50 font styles
Exclusive font weight and sharpness settings
Supported formats: 15 file formats supported natively (EPUB, EPUB3, FlePub, PDF, MOBI, JPEG, GIF, PNG, BMP, TIFF, TXT, HTML, RTF, CBZ, CBR)
Connectivity: WiFi 802.11b/g/n and Micro USB
Battery Life: 1000 mAh, weeks of battery life*
[ 59 replies ]
Sat June 06 2020
Fri June 05 2020

Internet Archive sued by big publishers
05:42 AM by Arrghus in E-Book General | News
I couldn't see a thread about this. Please merge if I've missed one.
I'm interested to hear your thoughts.
https://arstechnica.com/tech-policy/...nding-program/
"Despite the Open Library moniker, IA's actions grossly exceed legitimate library services, do violence to the Copyright Act, and constitute willful digital piracy on an industrial scale," write publishers Hachette, HarperCollins, Wiley, and Penguin Random House in their complaint. The lawsuit was filed in New York federal court on Monday.
[ 80 replies ]