Tue October 05 2021
Sat September 25 2021
Tue September 21 2021

Amazon announce 6.8" Paperwhite Kindles
11:39 AM by tubemonkey in E-Book General | News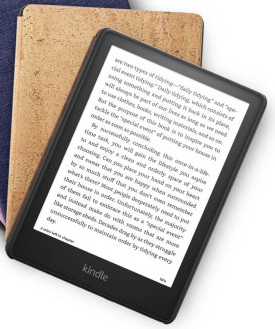 Amazon Unveils the Next Generation Kindle Paperwhite and New Kindle Paperwhite Signature Edition
Next generation Kindle Paperwhite comes with a larger 6.8-inch glare-free display, up to 10 weeks of battery life, adjustable warm light, USB-C charging, and 8 GB of storage—for only $139.99

First-ever Kindle Paperwhite Signature Edition also adds an auto-adjusting light sensor, 32 GB of storage, and—for the first time, wireless charging—all for just $189.99

Twenty percent faster page turns and an even smoother experience enabled by all-new hardware and redesigned interface

Four-month Kindle Unlimited membership included for a limited time, offering access to over 2 million eBooks, thousands of audiobooks, a selection of magazines, and more.
SEATTLE--(BUSINESS WIRE)--Sep. 21, 2021-- (NASDAQ: AMZN)—Amazon today announced the next generation of Kindle Paperwhite with three new models: the all-new Kindle Paperwhite, the first-ever Kindle Paperwhite Signature Edition, and a brand-new Kindle Paperwhite Kids. For years, Kindle Paperwhite has been the most popular Kindle, and the new generation combines premium hardware, faster performance, and a redesigned user interface for a more enjoyable reading experience. Starting at just $139.99, Kindle Paperwhite comes with a larger display, a new adjustable warm light, and increased battery life, while the new Signature Edition adds an auto-adjusting light sensor and is the first-ever Kindle to offer wireless charging. Kindle Paperwhite and Kindle Paperwhite Signature Edition pre-orders start today and will start shipping October 27. Learn more at http://www.amazon.com/kindlepaperwhite.

This press release features multimedia. View the full release here: https://www.businesswire.com/news/ho...0921005774/en/

more...
The First-Ever Kindle Paperwhite for Kids

Also today, Amazon announced the Kindle Paperwhite Kids—the first Paperwhite device custom-designed for young readers. Kindle Paperwhite Kids comes with a kid-friendly cover, a 1-year subscription to Amazon Kids+, and 2-year worry-free guarantee. The all-new Kindle Paperwhite Kids is $159.99 and also available for pre-order today. Learn more here.
Pricing and Availability

The all-new Kindle Paperwhite is $139.99 and available in 8 GB in Black. The new Kindle Paperwhite Signature Edition is $189.99, available in 32 GB, also in Black. Both devices are available today for pre-order, and for a limited time, they come with a free, four-month membership to Kindle Unlimited. New leather, cork, and fabric covers for the all-new Kindle Paperwhite will be available in a variety of colors.
Limited-time offer: Enjoy 4 months of Kindle Unlimited for free when you purchase the all-new Kindle Paperwhite or Kindle Paperwhite Signature Edition. Terms apply
[ 289 replies ]
Mon February 15 2021
Sat January 09 2021
Sun January 03 2021
Sat December 26 2020
Tue December 22 2020

Hisense A7 5G
07:19 AM by kandwo in E-Book Readers | Android Devices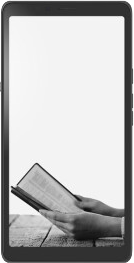 Today Hisense announced the release of their new e-ink smartphone, the A7 5G. What do we know? I haven't been able to find much information about the phone as I don't know Chinese and the webpage won't load for me fully. It is said to be a global release, so I guess that means Google Play?
Here is a link to the phone: https://item.jd.com/100009643325.html
According information posted to a reddit thread, it's going to be bigger than the A5: https://old.reddit.com/r/eink/commen...ves_1999_yuan/ (6.7 inches, according to the post) and will be followed by a colour version in February.
What do you think?
Myself, I'm a bit torn - I don't need a bigger screen and 5G, which I think has the potential to be a big battery drain. But if it has a faster processor than the A5 Pro and warm frontlight, I might consider it.
[ 46 replies ]