Can anyone recommend a French dictionary that I can use as a search engine in Firefox?
Just to be clear: I want to add a French dictionary to the Firefox search toolbar, so that it is visible from the drop-down menu within the toolbar. See the screen shot, below. You can see I've already added Longman's English dictionary to the toolbar. I now want to add something similar for French.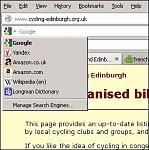 I'd be happy with either an all-French dictionary (where the headwords and the definitions are in French) or a French-English dictionary (which translates a French term into English).
Thanks in advance for any suggestions.
Mike