Gegenseitige Hilfe in der Tier- und Menschenwelt
ist Gegengift gegen den Vulgär- und Sozialdarwinismus, der, 110 Jahre nach Erscheinen dieser - von Gustav Landauer hervorragend übersetzten - deutschen Ausgabe, auf ganzer Linie gesiegt zu haben scheint.
Ich glaube, dies ist die erste eBook-Ausgabe der deutschen Fassung, direkt aus der Google-OCR-Korrekturkooperative. Fehler bitte melden!
Ich lade eine zitierfähige Ausgabe mit Seitennummern hoch, und eine, in der die Seitenzahlen deaktiviert sind ("nopg").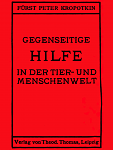 This work is assumed to be in the Life+70 public domain OR the copyright holder has given specific permission for distribution. Copyright laws differ throughout the world, and it may still be under copyright in some countries. Before downloading, please check your country's copyright laws.
If the book is under copyright in your country, do not download or redistribute this work.
To report a copyright violation you can
contact us here
.