Hi everyone,
I created a e-book translator that can translate epub azw3 or mobi files called GT4T.
It integrates 30 automatic translation engines including deepl, google or modernMT and you can use any of them.
Simply select your e-book files and drag them to GT4T File Translator's interface.
You can even drag folders and all e-book files in the folders and subfolders will be translated!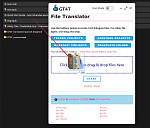 You can download from
https://gt4t.net/
. Do not download from Microsoft Store (yet) as it doesn't have the newest version of GT4T.
Thanks everyone! Any feedback is very welcome. Everyone is treated as they are the only users at GT4T.
Dallas, GT4T Developer