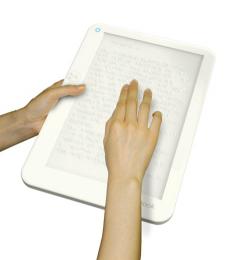 E-book readers have long been touted as a great help to people with poor vision thanks to their ability to enlarge the font size.
Now Seon-Keun Park, Byung-Min Woo, Sun-Hye Woo and Jin-Sun Park have gone one step further to create an electronic reading device which can display... braille.
According to the article on
Yanko Design
:
Quote:
Visually challenged people require braille books in order to read. However, not many books are available in braille due to cost and inefficiency. Translating a 500 page book into braille nearly doubles the thickness. EAP is a technology that can dynamically change the surface pattern by way of an electromagnetic signal - simulating braille text. Not exactly a new idea but a nice executive nonetheless.
This device could open whole new worlds of books to the blind. Let's hope this prototype makes it into production soon.
Thanks to MR member
Alisa
for the scoop ! Please
join the discussion here
.
via
Gizmodo
.