Quote:
Originally Posted by
feuille

Hello Comfy.n,

I implemented two of your hints (see history).

In order to calculate the display time of a progress bar, I stopped intermediate times in the program flow. To my surprise, the HTML rendering of the text browser widget consumes 2/3 of the total runtime! I may implement in a future release a workaround like stepwise asynchronous loading with a timer or so, but I need to do some research on that.
Thank you for the mention, I appreciate it!

Just did a quick test and confirmed that I had two identical books (Ratio 0):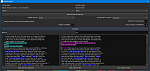 Then I found both are sourced from Gutenberg (one is a StandardEbooks edition).
Dark theme on-screen output is fine now, and it's great to have a one-click TextDiff tool within Calibre, thank you again.