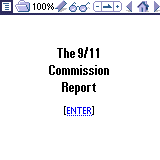 Thanks to
Hacker
for informing me about this wonderful release:
The 9/11 Commission Report
was converted
for Plucker, from the original 567-page PDF to HTML, and then every page was
hand-edited
to fix structure and layout, specifically to optimize it for PDA/handheld display. This was a lengthy process, and included running each page through a validator. The resulting document was derived from 100% validated XHTML content.

High-resolution Version:
(
pdb
, 1,740,600 bytes)
This version includes slightly larger images (310px) and alternate images (500px) by default. All images are greyscale (as they were in the original PDF)
Low-resolution Version:
(
pdb
, 1,457,067 bytes)