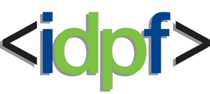 Nick Bogaty, Executive Director of the International Digital Publishing Forum (IDPF), has just informed me that the IDPF's Open eBook Publication Structure (OEBPS) Working Group has released two working draft specifications:
* The
Open Publication Structure (OPS) 2.0
(internal working draft v0.7)
*
The Open Packaging Format (OPF) 2.0
(internal working draft v0.7) for public distribution and review as IDPF informational documents.
Nick indicated that the team would appreciate feedback from our more technical readers. The IDPF strongly encourages feedback from potential users, developers and others, whether IDPF members or not, for the sake of improving interoperability and quality of IDPF work. The Working Group requests that comments to the specifications be made before Wednesday, January 31st in order to facilitate revision of the specifications.
Feedback on the draft specifications should be made at
http://www.idpf.org/forums
under "OPS/OPF 2.0 Public Drafts & Related Documents". All IDPF specification documents may be found at
http://www.idpf.org/specs.htm
.
Related Stories:
The fight for a reflowable e-document standard
Industry adopts new e-book standards
And finally, for those who are interested to learn more, here is some additional (detailed) information to get you on your way...
Document Summary
The OPS 2.0 and OPF 2.0 specifications are successors to OEBPS 1.2 which was released as an official IDPF specification in August 2002. The OPS specification describes a standard for representing the content of electronic publications. The OPF specification defines the mechanism by which the various components of an OPS publication are tied together and provides additional structure and semantics to the electronic publication. OPS/OPF will increase the viability and adoption of the previous OEBPS standard as both a cross-reading system interchange and production format as well as a final publication delivery format.
Both OPF and OPS are aligned with the OEBPS Container Format (OCF) specification which defines the standard mechanism by which all components of an electronic publication may be packaged together into a single archive for transmission, delivery and archival purposes. The OCF specification was released as an official IDPF specification on October 27th, 2006.
The OPS/OCF documents were submitted to the IDPF Board of Directors as an Informational Document as defined by the IDPF's Policies and Procedures, section 4.6.1. While Informational Documents do not have an official specification status in the organization, the Working Group felt it important that IDPF members and the public have the opportunity to review the draft specification in order to obtain feedback on the current state of the proposal as well as to alert IDPF members that a proposal is forthcoming in order to allocate appropriate resources for a proper review. The document is expected to be submitted to the official IDPF output process in Q1 2007 which consists of Board of Director, public, intellectual property and membership review and a final membership vote.
This document was approved for submission by the Working Group on Thursday, December 14th and approved for release by the IDPF Board of Directors as an Informational Document on Friday, December 22nd.
Additional documents that may prove useful as an introduction
* Working Group Charter:
http://www.idpf.org/idpf_groups/oebpswg.htm
* Specification Requirements:
http://www.idpf.org/doc_library/info...quirements.htm
* IDPF member presentations on OPS, OPF & OCF:
http://www.idpf.org/events/presentations.htm
Document Output Procedure
The OPS/OPF 2.0 documents are currently informational documents. All public comments made on the specification will be considered by the Working Group and, if appropriate, edits to the working drafts will be made. The Working Group expects to submit a final draft specification to the IDPF official output process in Q1 2007.