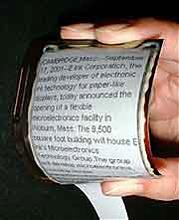 Looks like we may soon be seeing an influx of e-ink/e-paper devices.
Digitimes.com
is reporting that PVI (Prime View International) is about ready to ship e-paper en masse. PVI claims to have almost 30 clients including Sony Corp. Deliveries are due to begin in Q4 this year.
Read the original story
here.