Dieser Band versammelt sämtliche Werke von Johann Wolfgang Goethe (
Wikipedia
), nach Werkgruppen sortiert: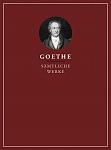 I. Dramen
Die Laune des Verliebten
Die Mitschuldigen
Götz von Berlichingen mit der eisernen Hand
Prometheus
Satyros
Götter, Helden und Wieland
Ein Fastnachtsspiel vom Pater Brey
Das Jahrmarktsfest zu Plundersweilern
Erwin und Elmire
Claudine von Villa Bella
Faust [in ursprünglicher Gestalt]
Clavigo
Hanswursts Hochzeit
Stella
Die Geschwister
Proserpina
Der Triumph der Empfindsamkeit
Egmont
Iphigenie auf Tauris
Torquato Tasso
Der Großkophta
Der Bürgergeneral
Die Aufgeregten
Mahomet der Prophet
Die natürliche Tochter
Faust: Der Tragödie erster Teil
Pandora
Des Epimenides Erwachen
Faust: Der Tragödie zweiter Teil
II. Romane
Die Leiden des jungen Werther
Wilhelm Meisters Theatralische Sendung
Wilhelm Meisters Lehrjahre
Die Wahlverwandtschaften
Wilhelm Meisters Wanderjahre
III. Erzählungen
Unterhaltungen deutscher Ausgewanderten
Briefe aus der Schweiz
Novelle
IV. Versepen
Der ewige Jude
Reineke Fuchs
Hermann und Dorothea
V. Lyrik
Gedichte (Ausgabe letzter Hand 1827)
Gedichte. Nachlese
Xenien und Votivtafeln, mit F. Schiller
West-östlicher Divan
VI. Aphorismen
Maximen und Reflexionen
VII. Ästhetik
VIII. Naturwissenschaft
Morphologie
Zur Farbenlehre
Zur Geologie
IX. Autobiographisches
Aus meinem Leben. Dichtung und Wahrheit
Italienische Reise.
Sankt-Rochus-Fest zu Bingen
Campagne in Frankreich 1792
Belagerung von Mainz
Tag- und Jahreshefte
Briefwechsel zwischen Schiller und Goethe
Sämtliche Texte sind durchgesehen und neu formatiert. Die Gedichte sind anständig gesetzt, bei den Dramen ist zwischen Versen und Prosa sauber unterschieden und Sprechende sind fett abgesetzt, Zitate, Untertitel, Absätze etc. sind gesondert formatiert. Schriften sind eingebettet, damit Kapitälchen und griechische Wörter korrekt wiedergegeben werden, und ich hoffe, dass ich alle nötigen Abbildungen gefunden habe. Entstehungs-, Veröffentlichungs- und Uraufführungsdaten sind angegeben soweit verfügbar.
Inhaltsverzeichnisse finden sich zu Beginn für den ganzen Band, in den zehn Abteilungen und den einzelnen Büchern, die alle auch einen Link zum Zurückspringen zum nächsthöheren Verzeichnis enthalten. Nach jedem Kapitel/Text/Auftritt sind Links eingebaut, die zur jeweiligen Übersicht zurückführen. So sollte ein einfaches Navigieren durch diese Textmassen gewährleistet sein. Das Reader-ToC enthält nur die zehn Abteilungen, da manche Reader nur unhierarchisiert sehr lange Listen anzeigen können.
Für die Gedichte ist ein alphabetisches Register erstellt.
Nicht enthalten sind Tagebücher, Gespräche und Briefe, mit Ausnahme der Briefe von/an Schiller, denen Goethe Werkcharakter beimaß.
Wenn ich Texte vergessen habe oder ihr Fehler findet, wäre ich für eine Nachricht dankbar, vorzugsweise als PM.
Viel Spaß beim Lesen,
pynch
.
v.1.1 | Update 4 Jun 2012
2 fehlerhafte Untertitel repariert.
v.2.0 | Update 1 May 2016
Die Werkausgabe wurde vollständig neu aus einer besseren Textquelle erstellt. Die dort nicht vorhandenen Texte wurden aus der alten Version übernommen.
Bisherige Downloads: 4248
This work is assumed to be in the Life+70 public domain OR the copyright holder has given specific permission for distribution. Copyright laws differ throughout the world, and it may still be under copyright in some countries. Before downloading, please check your country's copyright laws.
If the book is under copyright in your country, do not download or redistribute this work.
To report a copyright violation you can
contact us here
.