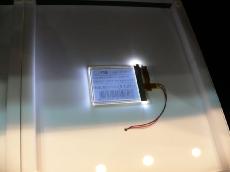 E-Ink gets Flexible, Timely and All Lit Up
Apparently E-Ink is being sneaky. There's nothing on their own site, but they have been showing of some new kit at the FDP International In Japan.
Engadget is
reporting
that they are showing off a front-lit e-ink panel, the front lighting developed by Alps Electric. And mentions that they also have a flexible (read "not rigid" here) 9.7 inch panel on display.
Tech-On further
elaborates
that the front light "has a structure similar to the front light used in LCD panels, although its design was optimized for e-paper by 'finely adjusting the prism angle.'"
The 9.7 inch panel has an integrated flexible TFT substrate and a resolution of 1200 x 820. This panel, unsurprisingly, was made by our friends at PVI in Taiwan. And Tech-On notes that, "Mass production is scheduled for the second quarter of 2008."
And here's a bit of info that I don't believe we have seen before:
Quote:
E Ink is promoting the development of flexible active-matrix e-paper by combining it with the flexible TFT substrates developed by several manufacturers including LG Philips LCD Co Ltd of Korea and Plastic Logic Ltd of UK, in addition to Prime View International.
That sounds like something to watch.
I'm probably a goober, but I'm particularly interested in the watches.
Quote:
The wristwatch with an e-paper face was reportedly developed by Art Tech, a US-Hong Kong joint venture. By switching over the display on the watch face, users can enjoy various face patterns. The product is slated for release in December 2007.
I'll be watching for those!
Thanks to
Alisa
for the heads up on this one! Please join the on-going discussion
here
.