Vor ein paar Tagen stieß ich auf das Blog
54 Books
, und dort auf einen
Beitrag
über die österreichische Autorin Caroline Pichler (1769-1843), der mein Interesse weckte. Auf gut Glück schaute ich in
Band 24
("Kleine Erzählungen, Theil 3") der 60(!)-bändigen Werkausgabe und fand diese höchst unterhaltsame Novelle, deren Genre hier ungenannt bleibt, weil: Spoilers!
Aus der DDB-OCR-Korrekturstube. Fehler bitte melden!
Erneut eine Ausgabe mit und eine ohne (nopg) Seitenzahlen.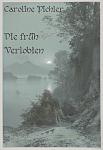 This work is assumed to be in the Life+70 public domain OR the copyright holder has given specific permission for distribution. Copyright laws differ throughout the world, and it may still be under copyright in some countries. Before downloading, please check your country's copyright laws.
If the book is under copyright in your country, do not download or redistribute this work.
To report a copyright violation you can
contact us here
.