Voici—no, I will do this in English again: this volume collects the complete writings of Charles Baudelaire (1821–1867,
Wikipedia
) in their original French:
★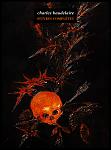 ★
Le Jeune Enchanteur
(1846)
La Fanfarlo
(1847)
Les Fleurs du mal
(1857)
Les Paradis artificiels
(1860)
Les Fleurs du mal
(1861)
Les Épaves
(1866)
Les Fleurs du mal
(additional poems of the 1868 edition)
Curiosités esthétiques
(1868)
: Salon de 1845, Salon de 1846, Le musée classique du bazar bonne-nouvelle, Exposition universelle — 1855 — beaux-arts, Salon de 1859, De l'essence du rire, Quelques caricaturistes français, Quelques caricaturistes étrangers.
L'Art romantique
(1869)
: L'Œuvre et la vie d'Eugène Delacroix, Peintures murales d'Eugène Delacroix à Saint-Sulpice, Le peintre de la vie moderne, Peintres et aqua-fortistes, Vente de la collection de M. E. Piot, L'art philosophique, Morale du joujou, Théophile Gautier, Pierre Dupont, Richard Wagner et Tannhäuser à Paris, Philibert Rouvière, Conseils aux jeunes littérateurs, Les drames et les romans honnêtes, L'école païenne, Réflexions sur quelques-uns de mes contemporains, Critiques littéraires.
Petits Poëmes en prose
(1869)
Œuvres posthumes
(1908)
: Les fleurs du mal, Autres poésies publiées du vivant de l'auteur, Poésies publiées depuis la mort de l'auteur ou inédites, Poésies apocryphes, Journaux intimes, Théatre, Critique littéraire, Travaux sur Edgar Poe, Sur les beaux-arts, Argument du livre sur la Belgique, Polémiques, Variétés, Baudelaire journaliste, Projets et notes.
★
The formatting and the italics have been checked and corrected by comparing the texts with the paper editions. There are active footnotes, fonts are embedded for small caps and thin spaces.
The collection is sorted more or less chronologically, but I kept the order of the essays from the edition of his complete works from 1868/69. There are the usual inline tables of contents and links after each text/chapter to get back to the respective tables. Additionally, the poems of the two
Fleurs du mal
editions and
Les Épaves
are cross-linked, for those who want to compare them.
The texts are sourced from Wikisource, mostly. As not all of those transcriptions have been finished, I did a spellcheck and hope that I found most of the mistakes.
I will prepare a companion epub next with Baudelaire's Poe translations.
A bientôt,
pynch.
Update v.1.1 | 12 Jun 2016.
Discovered a mistake in the stylesheet and some malformed footnotes.
Previous downloads: 552.
This work is assumed to be in the Life+70 public domain OR the copyright holder has given specific permission for distribution. Copyright laws differ throughout the world, and it may still be under copyright in some countries. Before downloading, please check your country's copyright laws.
If the book is under copyright in your country, do not download or redistribute this work.
To report a copyright violation you can
contact us here
.