Alexander
ist Klaus Manns zweiter Roman, 1929 resp. 1930 (im Buch heißt es Copyright 1929, 1.-4. Aufl. 1930) bei S. Fischer veröffentlicht. Der Alexander des Titels ist Alexander der Große, dessen Leben hier als rauschhafter Fiebertraum erzählt wird. Thema ist der Widerspruch zwischen des Helden hehren (wenn auch leicht verschwommenen) Zielen und seiner realen (und sehr konkreten) Brutalität. Faszinierendes Experiment.
Es gibt wieder eine Version ohne Seitenzahlen und Korrektur/Anmerkung ("standard") und eine mit ("pg-corr"), wobei es sich bei "corr" um ein nettes, kleines "[sic]" handelt.
Erneut hat das Access-Aide-Plugin nach Durchlaufen sein Prädikat verliehen: This publication conforms to WCAG 2.0 AA.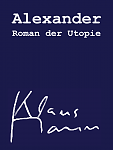 Update, 29.4.2020
Die Standardversion wurde durch eine korrigierte v1a ersetzt. Ein kleiner Fehler im Stylesheet hat bei manchen Leseprogrammen dazu geführt, dass es ignoriert wurde. Danke an ngiyaw für den Hinweis! (Bisherige Downloads: 183)
This work is assumed to be in the Life+70 public domain OR the copyright holder has given specific permission for distribution. Copyright laws differ throughout the world, and it may still be under copyright in some countries. Before downloading, please check your country's copyright laws.
If the book is under copyright in your country, do not download or redistribute this work.
To report a copyright violation you can
contact us here
.