I've switched from Sony DPT-S1 to Boox Max Lumi 1 a few months ago.
When I purchased Boox Max Lumi, I got a screen protector for it from Healing Shield (full name: "Screen Protector for Onyx Boox Max Lumi, Anti Glare Matte Screen Protector Guard Healing Shield Outdoor Max Lumi Film") which I put on the e-reader the minute I unpacked it. In other words, I've had Healing Shield protector from the first moments of owning the device.
I was satisfied but not very happy with Boox Max Lumi 1 thinking that Sony DPT-S1 was crisper. Yesterday, I decided to check if that's screen protector's fault. It was!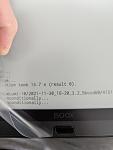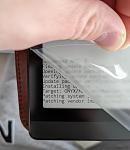 It
is
crisp and sharp, and I can see pixels, which is awesome.
Now, the question is: what are good matte screen protectors to use with Boox Max Lumi 1? The ones which wouldn't make the reading experience worse.