Hey all, I'm an indie author who is collaborating with another author for the first time and having a blast! The second book in the series was released yesterday and so we've made the first book free until 5/3. Here's a short blurb and the links: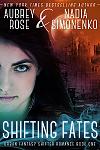 In post-nuclear Manhattan, there are two kinds of survivors: humans and shifters.
Cage
After his older brother Ben was killed by shifters, Cage followed in Ben's footsteps and joined the military. His job is simple: protect the surviving civilians in the wreckage of Manhattan and put down the dangerous shifter mutants prowling the streets. Bitter with revenge, he can't wait for a chance to get even with the monsters who killed his brother.
Bindi
Half-wolf, half-human Bindi is one of Cage's monsters. She lives underground, hiding away from military patrols and protecting the ragtag pack of shifter children who have come to depend on her. She'd do anything to get out of the city and get her pack to safety, but nobody gets in - or out - of this city.
On Christmas Eve, Cage catches Bindi –in human form - stealing extra rations for her pack. In a moment of pity he lets her go, but not without being struck by a sense that there's something special about her. Something… different.
_________________
http://www.amazon.com/Shifting-Fates.../dp/B00JNHDUWG
Grab it for free while it lasts!