Hi,
I created a firmware dump tool for Kobo devices but its far from done and i need some help.
You do not have to open up your Kobo and that makes it excellent for all those H2O devices.
2019-02-14 v0.1c alpha
https://streamable.com/xzaey
Supported devices: All Kobo Devices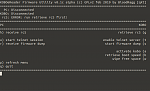 Enjoy!
History: v0.1a
Spoiler:
Disclaimer:
This shell script is provided as is without any guarantees or warranty. In association with the product, I make no warranties or responsibility of any kind, either express or implied, including but not limited to warranties of merchantability, fitness for a particular purpose, of title, or of noninfringement of third party rights. Use of the product by a user is at the user's risk.