A Welsh Witch. A Romance of Rough Places
(1902) by Allen Raine (pen-name of Anne Adalisa Puddicombe (1836-1908)) was a veritable bestseller in its day. The Google scan this ebook was prepared from doesn't have an edition number or a year, but proudly states that it's the "two hundred and forty-first thousand."
It's the story of four young people growing up in a small fishing village in Cardiganshire who have to go through shipwreck, mining disaster, exile to North Wales, and other tribulations before they find out who really is in love with whom and live happily ever after.
There is no witchcraft, but lovely descriptions of the countryside, as well as several Welsh words and phrases in inconsistent spelling.
Thanks go to BookCat for requesting this, and to elibrarian for providing the scan.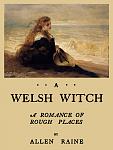 This work is assumed to be in the Life+70 public domain OR the copyright holder has given specific permission for distribution. Copyright laws differ throughout the world, and it may still be under copyright in some countries. Before downloading, please check your country's copyright laws.
If the book is under copyright in your country, do not download or redistribute this work.
To report a copyright violation you can
contact us here
.