New icon theme for Calibre. I'm using the icons from the Material set in grey with colorful highlights.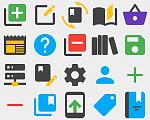 The icons are from google (material.io/icons/), Austin Andrews (and other contributors at materialdesignicons.com) or myself.
To get a consistent look in the tag browser you can download the blue news icon and change it manually: Just right click on News in the tag browser, select change category icon and open the new one.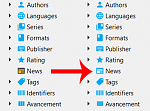 Google icons are under the CC BY 4.0 license and Austin Andrews icons are under the SIL Open Font License 1.1