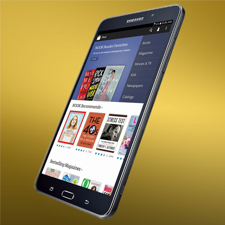 "Barnes & Noble has unveiled a customised version of an existing Samsung tablet as a replacement for the Nook HD+, which it manufactured itself.
The US book chain is marketing the device as the "first-ever full-featured Android tablet optimised for reading", based on its inclusion of pre-installed Nook apps and homescreen shortcuts.
However, its screen is lower resolution than Kobo's Android-powered Arc 7HD."
http://www.bbc.co.uk/news/technology-28872196