Quote:
Originally Posted by
Roboticist
I'm new to calibre, and it seems to be a terrific little application. I need speech-to-text capability and I followed the instructions in the forum to install Open With, which installed perfectly. I was already using Balabolka, so I tried to get the plugin to recognize it. I opened the "Customize plugin.." and saw the table that opened up there. I tried to "Edit Path" to take me to Balabolka, but was not able to enter anything.

Did I miss a step somewhere? Specifically, I'm trying to get speech-to-text in calibre.
@
Roboticist
- Maybe, but I now use the recently added built-in Open With.
I configure it from the View Specific Format option (alt+V) - select any Epub as shown, and click the "Open EPUB With..." button and select the "Add another..." option
Then in the windows file open dialogue browse to where Balabolka is installed and select its .exe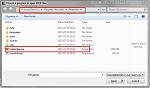 You can give it a keyboard shortcut via Preferences->Keyboard->Open With.
I have removed the Open With PI, having both confused me.
BR