Quote:
Originally Posted by
Quoth

Personally I hate the way many websites do fonts. Sheer arrogance and also an issue they don't bother hosting the fonts (possible with Google fonts) but load in real time from Google.
Yeah... I block all external fonts... plus:
Javascript
Ads
GDPR/Cookie popups
All "share" social media buttons.
Also, I've set these to become "Click-to-Load":
Images that are >30KB
Embedded Videos (Youtube, Vimeo, etc.)
Embedded Documents (Scribd, etc.)
If I want 'em, or think they may be relevant, I can click on them to display the image.
I've also ranted about how annoying the web has become with these auto-playing videos that scroll with your screen + lots of other garbage. (Scrolling top/bottom banners which suck up real estate, sites that refuse to load without Javascript, etc.)
Just today, I ran across this:
which seems right up my alley.

Quote:
Are you tired of not being able to use all of your screen real estate for the text that matters on a website because floating headers and other distracting elements are blocking your view? [...]

Block annoying web elements such as sticky headers, dickbars, floating headers, scrolling headers, fixed headers, scrolling videos, stickynavs, social icons, social share bars, smartphone app banners, app download prompts, cookie notices, GDPR warnings, scroll to top buttons, modal overlays, interstitial site overlays, removed or hidden overflow scroll bars, subscription nags, and generally distracting elements that have increasingly been turning the web into a user-hostile environment.
("User-Hostile" Design is right!!!)
And one of those also links to
this article
:
Quote:
Every Medium site displays an on-screen "sharing" bar that covers the actual content I want to read. This is particularly annoying on the phone, where screen real estate is most precious. Now on iOS they've added an "Open in App" button that literally makes the last 1-2 lines of content on screen unreadable. To me these things are as distracting as having someone wave their hand in front of my face while I try to read.
Mobile websites in particular have become absolutely disgusting, and what frustrates me is HUGE MARGINS + ENORMOUS FONTS on a tiny screen... you can barely fit 4 words on a line!
See Original Mobile vs. Firefox's "Reader Mode":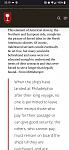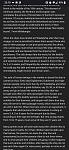 The Firefox version shows about 3x as much text. And the original article had ~15% of the usable screen covered in that useless scrolling top banner!