The Patchwork Girl of Oz
by L. Frank Baum (1856–1919)
Illustrated by John R. Neill (1877–1943)
With 68 black-and-white and 20 color illustrations, illustrated chapter heads, alternate cover image, end paper images, Author's Prologue, and a Map of the countries of Oz.
First published in 1913. Text is in the public domain worldwide. Illustrations are in the public domain in countries where copyright is "Life+70" or less, and in the USA.
--------------
Now for the favorite character of many readers, and one of my personal heroines ---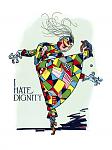 (click to enlarge)
----------------------
When Scraps, the sassy Patchwork Girl, is brought to life by Dr. Pipt's magic Powder of Life, the excitement begins. The young boy Ojo, accompanied by Scraps, Bungle the Glass Cat, and a peculiar creature called the Woozy, must quest through Oz to find the strange ingredients to brew a magic liquid that will release his Unk Nunkie from a spell which has turned him into a marble statue.
* * * *
Lyman Frank Baum (May 15, 1856 – May 6, 1919) was an American author chiefly famous for his children's books, particularly
The Wonderful Wizard of Oz
and its sequels. He wrote 14 novels in the Oz series, plus 41 other novels, as well as many short stories, poems, and plays.
For over a century, readers of all ages have loved these stories, and many of the Oz characters and situations have become a part of popular culture.
----------------------
Available in two-volume "high-rez" with images based on 1100 x 1500px, or single-volume "low-rez" based on 800 x 1100px.
----------------------
Enjoy the read! And remember — DOWN WITH DIGNITY!
.
*****************
EDIT TO ADD: Upload version 2 (Corrected Author's Prologue)

Previous downloads --- 18 // 16
.
This work is assumed to be in the Life+70 public domain OR the copyright holder has given specific permission for distribution. Copyright laws differ throughout the world, and it may still be under copyright in some countries. Before downloading, please check your country's copyright laws.
If the book is under copyright in your country, do not download or redistribute this work.
To report a copyright violation you can
contact us here
.