Perley Poore Sheehan (7 June 1875 in Cincinnati, Ohio, USA – 30 September 1943 in Sierra Madre, California, USA) was an American film writer, novelist and film director.
Captain Trouble: Known as Captain Trouble, the Fighting Fool, and Shadak Khan, he was born Pelham Shattuck, an American. Follow his adventures in the Orient as he fights to become the successor to the great Kubla Khan.
"In terms of authenticity and style, Sheehan might not reach the Himalayan heights of Mundy and Lamb. But in terms of plot and color and action, The Fighting Fool stands comparison with many of Robert E Howard's historical adventures - and who can say fairer than that?"
Dr. Drib has already posted a
collection
of 4 Captain Trouble stories in LRF.
This novelette contains one original illustration and features another on its cover.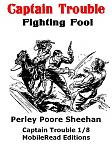 This work is assumed to be in the Life+70 public domain OR the copyright holder has given specific permission for distribution. Copyright laws differ throughout the world, and it may still be under copyright in some countries. Before downloading, please check your country's copyright laws.
If the book is under copyright in your country, do not download or redistribute this work.
To report a copyright violation you can
contact us here
.