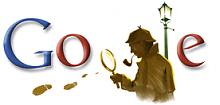 As we all know,
Sir Arthur Conan Doyle
is the author of the Sherlock Holmes mysteries. A favorite of teenage boys everywhere, despite the master mystery solver's somewhat dubious drug habit. Fortunately I was too naive to even know what he was smoking until I was older!
His birthday today is only known by me because my browser homepage is Google. And at Google today there is a cute new version of the Google logo at the top. You might not know that when you see one of those new logos, you can click on it and the search results will tell you what it's all about. Mother's Day, Olympics, famous birthday... it's all kind of a fun surprise, mostly because the artist who creates these things is so excellent.
So if you have been meaning to pick out one of the Sherlock Holmes mysteries to read, what better time than on his birthday. The e-bookworm, Jen, over at
Palm Addicts
has also noted this birthday, and gives us some eReader links. But I'm sure you can also find more Sherlock Holmes stories at free e-book sites around the web if you aren't fussy about the formatting.