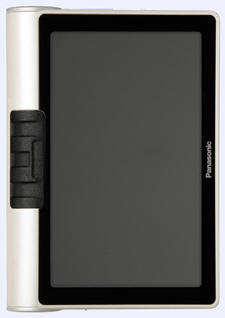 Remember the
Words Gear e-book reader
from Panasonic earlier today? Well, there is more to it as the following
press-release
reveals:
Quote:
Matsushita Electric Industrial Co. Ltd. and two other Japanese companies said on Tuesday they would set up a joint venture to sell electronic book readers and distribute novels and comics via the Internet.

The new company, to be established on October 2 with a capitalization of $2 million, will be held 49.9 percent by Matsushita, 42.1 percent by Japanese publisher Kadokawa Holdings Inc., with the remainder owned by Tokyo Broadcasting System Inc., Japan's third-largest television station.

Takakazu Otsuki, president of the new company, Words Gear Co. Ltd., said he aims for annual revenue of about 9 billion yen by the year ending March 2011 through hardware and content sales.

The electronic book reader, developed by Panasonic maker Matsushita, is smaller than a paperback book and comes with a 5.6-inch liquid crystal display.

Words Gear plans to launch the new terminal as early as November in Japan for about 40,000 yen ($344), and aims to sell about 10,000 units by March 2007. It has no specific plans at the moment for overseas sales.

Matsushita started offering its first electronic book reader, called Sigma Book, in 2004, but has sold only several thousand of them due to limited software availability.

Words Gear aims to offer up to 10,000 software titles of downloadable content by March.