1906 verfasste Mauthner diese kurze Monographie als neunten Band der von Martin Buber herausgegebenen Schriftenreihe
Die Gesellschaft
. Mir hat sie ein wenig die Scheu vor Mauthners großer
Sprachkritik
genommen, auch wenn man sie keineswegs als systematische Einführung auffassen kann.
Die hübschen Initialen der Druckausgabe wurden übernommen.
Aus dem Google-OCR-Korrekturseminar. Fehler bitte melden!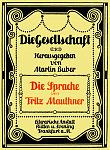 This work is assumed to be in the Life+70 public domain OR the copyright holder has given specific permission for distribution. Copyright laws differ throughout the world, and it may still be under copyright in some countries. Before downloading, please check your country's copyright laws.
If the book is under copyright in your country, do not download or redistribute this work.
To report a copyright violation you can
contact us here
.