Instructions for patching firmware (by firmware version):
Patching
makes small changes to the Kobo firmware in order to: customise appearance or settings, fix bugs, remove restrictions or unwanted features, and (rarely) to add new features.
None of these patches add any extra files to the firmware, but they are applied by installing modified versions of existing files. This means that all these patches will disappear when the firmware is updated, and new patches must be created to apply to each new firmware version.
For this reason, when patching it is
VERY IMPORTANT TO USE THE CORRECT PATCHES FOR THE FIRMWARE VERSION ON YOUR DEVICE!
If you apply the patches for the wrong firmware version the device might not boot, and it will probably require a full factory reset. You can check the firmware version your device is using in the
Settings > Device information
page: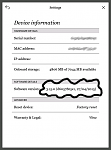 These patches are
completely unofficial
, so if you have a problem with your patched device don't complain to Kobo. The best place to ask for help is in the instruction thread above for the firmware version you are using.
(I refer to these as the Metazoa patches because most were originally created by metazoa at
www.the-ebook.org
, and as a way to distinguish them from other patches and mods on this forum.)
Description of what the patches do (all versions):
`Custom page refresh options`
(This thread is a work in progress. I'll add links below as I create a post about each patch.)
This thread is intended to eventually be useful to those trying to decide whether or not to bother with patching. To avoid it becoming long and confusing for those new to patching, please don't post comments or questions about specific firmware versions here. The place to do that is in one of threads listed at the top of this page.